Hazel Scott, Loretta Lynn, and M.I.A.
Women's History Month is a time to reflect on women's accomplishments.  Although we still have a long way to go, no one can dispute that we have made progress.  In the field of music, women have struggled to get their time in the spotlight and to be treated and paid equally.  Some have also fought against institutional racism– a double battle. Although much of this story takes place in the 20th century, women still struggle today. These musicians did not necessarily view themselves as feminists, but their battles helped women gain more control over their music. How to define feminism is an ongoing discussion and women are redefining what empowerment means in their work.  The contributions of all these female artists helped women gain more control over their product and fostered a more open climate for expression of their views.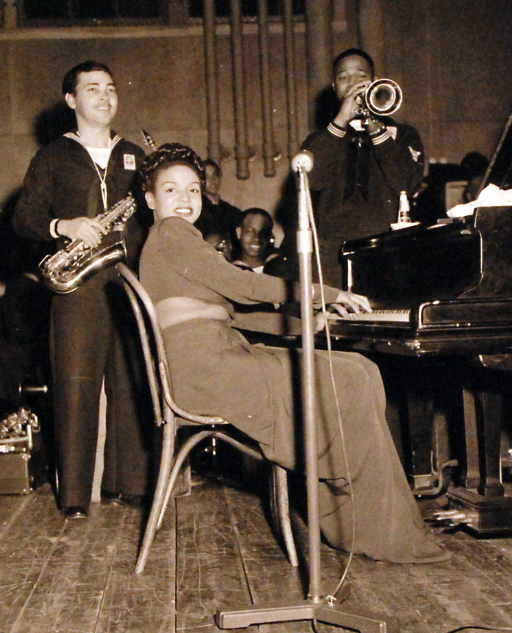 Not many people today remember Hazel Scott, but she was the first Black person to have a television show. She was also one of the many whose lives were destroyed by the House Un-American Activities Committee in the 1950s. Hazel was extremely talented. She was also very committed to creating a better world. "I've been brash all my life, and it's gotten me into a lot of trouble," she observed. "But at the same time, speaking out has sustained me and given meaning to my life."1
Hazel Scott was born in Port of Spain, Trinidad and Tobago, in 1920. She was the only child of Alma Long Scott, a pianist and saxophonist, and R. Thomas Scott, a scholar. Hazel was a child prodigy. She was able to play piano by ear at age three, and she would cry out when her mother's piano students played a wrong note. One day, Hazel played a piece on the piano that she had heard her grandmother sing. From that point on, Alma Scott devoted herself to developing her child's talent.
When Scott's parents separated in 1924, Hazel and her mother and grandmother moved to New York. The family faced hard times, but her mother was able to support the family by playing in bands. Alma befriended many important musicians and Hazel learned from masters like Art Tatum, Lester Young and Fats Waller. Although students were supposed to be 16 before they auditioned at the Julliard School of Music, Alma Scott used her connections to secure an audition for Hazel at age 8. The staff was so impressed with Hazel's talent that a professor arranged a scholarship so he could give her lessons.
During Scott's teenage years she performed all over the city. At first, she played in her mother's jazz band, but she gave her first individual performance at age fifteen at Roseland Ball Room where she shared the bill with Count Basie. In her late teens, she hosted her own radio show and made her Broadway debut. Even with all her professional demands, Hazel still managed to graduate high school with honors.
In 1939, Hazel performed at Café Society, a popular club in Greenwich Village. This was one of New York's premier jazz clubs and the first integrated nightclub. It was Billie Holiday who gave Hazel her first break in the club scene. Billie insisted that Hazel replace her when she finished her engagement. Hazel's talent and engaging personality made her an instant success. Suddenly she was a star. Audiences loved her jazzy interpretations of classical pieces delivered in a beautiful voice. Her popularity helped her win record contracts and her releases broke sales records.
Hazel also caught the attention of Hollywood executives and signed a contract to make five films. By this time, she was able to exert more control over her career and she insisted on being credited as "Hazel Scott as Herself." She refused to play subservient roles and demanded equal pay. While filming "The Heat's On" with Mae West, she refused to wear the soiled costumes given to Black actresses and staged a three-day strike on the set. Hazel won the battle when the studio caved, but that was the end of her film career.
Back in New York she began performing again, but when she married Adam Clayton Powell (the first Black congressman she stopped playing nightclubs and did only concerts. On tour, she refused to play before segregated audiences. She was once "escorted" out of Austin, Texas, by the Texas Rangers for her refusal. Like Marian Anderson, Hazel tried to book a concert at Constitution Hall in D.C. in 1945. True to form, the D.A.R. refused. Even though there had been widespread protest when the D.A.R. blocked Marian Anderson from the Hall in 1939, nothing had changed. Hazel always insisted on audience integration. "Why would anyone come to hear me, a Negro," she asked Time magazine, "and refuse to sit beside someone just like me?2
The high point of Hazel's career came in 1950 when she was offered a television show. Hazel was the first Black American to host a TV show. The show was so popular that the network began airing the program three times a week. Hazel's great success ended abruptly when she testified before the communist-hunting House Un-American Activities Committee. She was blacklisted after her testimony. Her TV show was canceled a few weeks later and she had a nervous breakdown.
Concert opportunities were limited and her marriage to Powell was disintegrating. Hazel took her son and moved to France, where she felt comfortable like many other Black musicians and writers. She played concerts, appeared in films, and hung out with famous expatriates like James Baldwin and Max Roach.
Hazel returned to the United States in 1967, but America had forgotten about her and jazz. Hazel continued to make a living playing concerts all over the world, but she never regained the level of popularity she had enjoyed in the 1950s. By the late 60s Jazz was overshadowed by newer forms of popular music. It seemed "old school" to record-buying young people.
Hazel Scott broke barriers and helped provide more opportunities for women and Black performers. She was a virtuoso pianist, a talented singer, and a great entertainer who spoke seven languages and captivated audiences all over the world. Although Hazel faced discrimination and prejudice throughout her career, she continued performing and always spoke out for equality. Her legacy as a performer, activist, and role model still inspires musicians and fans around the world.
Image attribute: This file is a work of a sailor or employee of the U.S. Navy, taken or made as part of that person's official duties. As a work of the U.S. federal government, it is in the public domain in the United States.
80-G-294759: Naval Training Station, Great Lakes, Illinois. Pianist Hazel Scott making a guest appearance at the training station. Released December 17, 1943. Official U.S. Navy Photograph, now in the collections of the National Archives. (2016/07/05).
1https://www.smithsonianmag.com/arts-culture/hazel-scotts-lifetime-of-high-notes-145939027/
2https://en.wikipedia.org/wiki/Hazel_Scott
Loretta Lynn- Inadvertent Feminist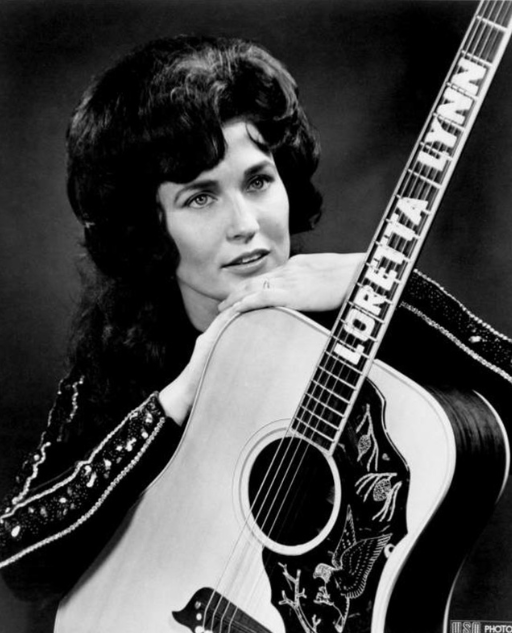 Although Loretta Lynn would never call herself a feminist, her music brought comfort and strength to many women. When Loretta started playing country music, very few women were headline acts. Loretta's success helped open doors for many female musicians in country music. Her honest lyrics spoke to many women. Through her success, women gained more control over choosing lyrics, song ownership and production choices. She is a country music icon–a musician who won many awards and remained popular for over 60 years.
Loretta was born In the Kentucky Appalachian town of Van Lear in 1932, the second of eight children of Melvin and Clara Webb. She claimed to have only a fourth-grade education. Her father struggled to make ends meet and supplemented his coal mining income with subsistence farming. Her parents loved movie stars and Loretta was named after Loretta Young, a popular movie star of the 1930s and 1940s. Loretta's mother encouraged her children to sing and Loretta often sang with her siblings at church and social occasions.
Loretta married Oliver Dolittle (Doo) at age fifteen and had her first of six children with Oliver at age 16. Doo moved the family to Washington in search of better opportunities, but the family still struggled. They had a loving but difficult relationship, often fighting over Oliver's drinking, bootlegging and philandering. But Oliver always provided love and unwavering support. He always encouraged Loretta and bought her first guitar at age 19, telling her she sounded better than the girl singers on the radio. 1
Doo also encouraged Loretta to start her own band. She formed The Trailblazers and started performing in clubs in the 1950s. An agent named Norm Burley saw The Trailblazers perform and formed a record company to record her music. They recorded four songs and produced Loretta's first hit, "I'm a Honky Tonk Girl." The Lynns went on tour to promote the record, and when they arrived in Nashville they found out "I'm a Honky Tonk Girl" was already a hit. Patsy Cline mentored Loretta. She took Loretta under her wing and helped introduce her to important musicians. Loretta signed with the Wilburn Brothers and although they promoted her music and got her into the Grand Ole Opry, she fought with them for many years to claim the publishing rights to the songs she had written. She even stopped writing music for a while because of the contract. It's an old story- musicians struggling over the rights to what they have created.
Although Lynn penned many hit songs under contract with the Wilburn Brothers, some of her most memorable compositions came later. Loretta personified country. She sang in prairie dresses and portrayed the good wife—which she was. But she didn't disguise the difficulties that she and many of her listeners faced in marriage. She said, "I married Doo when I wasn't but a child, and he was my life from that day on… Doo was a good man and a hard worker. But he was an alcoholic, and it affected our marriage all the way through." (Lynn, Loretta; et al. (2002) [1993], Still Woman Enough: A Memoir) She spoke the truth of her existence and women told her they felt her songs were authentic representations of their own experiences.
Her first hit once freed from the contract was "Dear Uncle Sam". Although the song evokes a patriotic tone, the lyrics reveal the pain of losing a loved one in the Vietnam war. Other hits like "You Ain't Woman Enough (To Take My Man)" (based on an actual confrontation with one of her husband's mistresses), "You've Just Stepped In (From Stepping Out on Me)" and "Don't Come Home A-Drinkin' (With Lovin' on Your Mind)" all spoke to women's experiences. Although Lynn sang about women standing up for themselves in a relationship, she said that she had no interest in the feminist movement. "I'm not a big fan of Women's Liberation," she wrote in Coal Miner's Daughter, "but maybe it will help women stand up for the respect they're due."2″
Although she always said she didn't want herself or other women to be abused, she jabbed at feminists in her song "One's on the Way." The lyrics go:
The girls in New York City, they all march for women's lib
Better Homes and Gardens shows a modern way to live
And the pill may change the world tomorrow but meanwhile, today
Here in Topeka, the rain is a-fallin'
Dog is a-barkin' and the floor needs a-scrubbin'
One of them is toddlin' and one is a-crawlin' and one's on the way.
Yet Loretta Lynn didn't shy away from speaking out for women in her memoir and in her songs. At least five of her songs were banned by country music stations. Two of her biggest hits, "The Pill" and "Rated X," directly addressed women's issues. In "The Pill" Loretta talks about how a woman's life will change if she can control when she gives birth. "Rated X" addresses the double standard of behavioral permissions for men and women.
Loretta Lynn remains one of the most successful country artists of all time. She had hits both as a soloist and in her partnership with Conway Twitty. She had almost 80 hits, 16 of them number one. Although Lynn's popularity declined as country music evolved, she also changed to keep herself relevant. In 2004, she made a comeback album produced by rock musician Jack White (from the band White Stripes). This album introduced a new generation of fans to Loretta Lynn's music.
You may not be a fan of country music, but many people learned about Loretta Lynn's life and success from the movie "Coalminer's Daughter." The movie was based on Loretta's first memoir and garnered a Best Actress award for Sissy Spacek along with six other awards. Loretta never stopped working and never avoided speaking the truth of her hardscrabble existence. She died peacefully at her ranch in Tennessee in 2022.
You can't tell the story of American country music without Loretta Lynn. Today she is considered one of the greatest country music artists of all time, with a career that spans over six decades. She has broken down barriers for women in music and established a path for many contemporary female artists. Her legacy will always be an essential part of country music.
Image attribute: This work is in the public domain in the United States because it was published in the United States between 1928 and 1977, inclusive, without a copyright notice.
1https://www.cnn.com/2022/10/04/entertainment/loretta-lynn-obit/index.html
2https://www.rollingstone.com/music/music-country/loretta-lynn-dead-obituary-65340/
M.I.A.-Thriving on Expression and Controversy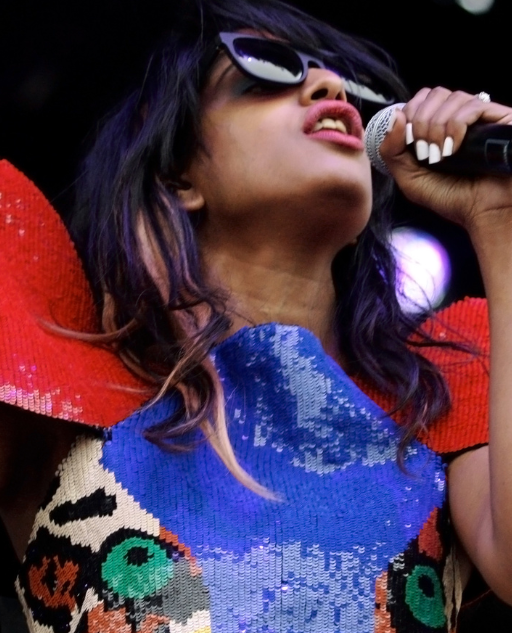 What rapper has ranged between being a media darling and being sued by the NFL, banned on YouTube and lately become noted for anti-vaccination statements springing from her new identification as a born-again Christian? The rapper M.I.A. (Mathangi Arulpragasam) has never been afraid of controversy or provocation. M.I.A.'s work during her long career has supported unpopular causes. She supported Julian Assange despite the charges against him. Sometimes she has been misunderstood. Her support for improving the situation in Sri Lanka has been linked to her father's involvement with the Tamil movement.
Her father was part of Eros, a faction whose aim was to create a separate Tamil state, but the group did not advocate violence. Yet M.I.A. has been called a terrorist for supporting an independent Sri Lankan state.
M.I.A. had a tumultuous childhood. Her parents were Arul Pragasam, a Tamil engineer and activist, and Kala, a seamstress. She was born in London in 1975 but the family moved back to Sri Lanka when M.I.A. was a baby. When her father became a political activist, the rest of the family went into hiding and the father disappeared for the family's safety. Kala took the children to India, but she returned to Sri Lanka. Government soldiers came to her house so frequently to beat up the mother that the village took up a collection and raised enough money for Kala and her children to move to London in 1986.
Life was not easy in London, but the family learned English, the children went to school, and Kala got a job as a seamstress for the Royal Family. After finishing her secondary education, M.I.A. enrolled in Central St. Martins College. M.I.A. felt her classmates' work was too theoretical and elite for a wide audience. She wanted to make films and art that would be accessible to everyone.
M.I.A. became interested in music in the late 1980s and early 90s, inspired by the sounds of such wide-ranging artists as the rap group Public Enemy and the post- punk band The Clash. She began working on an old tape machine in a shed. M.I.A. had 500 records pressed and began promoting her album on the internet. She was one of the first artists to build a fan base and increase sales through the web—something all artists do today. She began loading her music on MySpace and got noticed. These early releases won Best of the Year awards in Great Britain.
M.I.A toured America in 2005 and released another album. The title, Arular, was her father's nom de guerre. Although her father's political activities had separated him from the family, he did email her to tell her he was proud of her accomplishments. M.I.A received critical acclaim for her early releases with her unique blend of rap, EDM and world music. In 2006 M.I.A. released another album named after her mother, Kala, which included soca, umree drum and music from Tamil films. This combination was new to most listeners and M.I.A received critical acclaim for catchy music juxtaposed with political lyrics. By 2008 M.I.A was successful enough that she started her own record label.
Although she wanted to take a break, the filmmaker Danny Boyle called M.I.A and asked her to collaborate with A. R. Rahman for the film Slumdog Millionaire. The film was a huge success and the song O…Saya was nominated for an Academy Award.
M.I.A.'s later years have been more notable for controversy than acclaim. She released a very violent video on YouTube that was pulled. Then came her appearance with Madonna in 2012 for the Superbowl. M.I.A., Madonna and Nicki Minaj had co-written the song "Give Me All Your Luvin." Like many Superbowl performers, Madonna had M.I.A. and Nicki Minaj join her for the song. M.I.A. did not take a curse word out when she sang. She was also accused of making an obscene gesture. M.I.A. said the gesture was the Mahatma Mudra, a godly gesture in her country. The N.F.L. sued and M.I.A. countersued. Although the two parties settled out of court, this controversy was naturally detrimental to her career.
In the last ten years, M.I.A. hasn't released much music. She has been better known for controversial statements about vaccination and her new identification as a born-again Christian. These new views seemed surprising coming from someone who has been a representative of outsider inclusion and even accused of being a terrorist for her outspoken views and use of violent imagery in videos. Although M.I.A.'s career has been filled with high and low points, no can deny her influence on rap music. She was one of the first musicians of Asian descent to successfully blend politics and genres in the rap world. She was also one of the first to use streaming as a way to expose listeners to music. MIA's music, artistry and provocation make her one of the most innovative musicians of this century's first decades.
Image attribute: Description English: M.I.A. performing at Outside Lands 2009 Date: 30 August 2009 18:12 Source M.I.A. 7 Author Moses, noise reduction by Jujutacular This file is licensed under the Creative Commons Attribution 2.0 Generic license. https://creativecommons.org/licenses/by/2.0/deed.en
Hazel Scott, Loretta Lynn and M.I.A. are all exceptional women who made a significant impact in the history of music. Through their music, they broke barriers and challenged social and cultural expectations. Hazel Scott's mastery of the piano and her courageous testimony before Congress defined her talent and courage. Loretta Lynn's honest lyrics resonated with fans across the world. M.I.A.'s unique blend of electronic, hip-hop and world music brought a fresh perspective to the music scene. Despite their different backgrounds and genres, these women shared a common drive to create music that reflected their experiences and challenged conventions. Their legacies continue to inspire and influence musicians, making them true icons of the music industry.