One Giant Step for Womankind
On November 19, 1969, an 8 year-old school girl and her classmates watched transfixed on a tiny black and white television set that a parent brought in to their classroom as Apollo 12 made America's second successful moon landing.  At that moment first-grader Aprille Joy Ericsson knew that she would be an astronaut.  How many 8 year-olds dream of being astronauts? How many girls actually become one?  How many African American girls from the Roosevelt Projects in Brooklyn?
Did it matter how much math and science would be required?  Perhaps, but Aprille developed a love for math and science in middle school, winning second place in the school science fair. 
Did it matter that she didn't see anyone who looked like her in her desired profession? Perhaps, but Aprille was undeterred. She credits her mother for helping her cultivate self-confidence , encouraging her to pursue her dreams, and implanting the notion to bring others along with her on the road to success.
Did she encounter obstacles and biases along the way? Absolutely. But passion, determination and hard work were always her superpowers. She credits team sports – basketball and softball at the league level– with developing the necessary mental discipline.
"I have always been a believer that if you work hard, you will succeed."
Seventeen years after Apollo-12, Aprille worked as a Manned (aka crewed) Mars Mission crew systems specialist for an interplanetary vehicle for her senior project at the Massachusetts Institute of Technology.
Twenty years after Apollo-12 astronauts Charles Conrad and Alan Bean collected lunar soil and installed instrumentation to gather seismic engineering data, Aprille Ericsson began her career as an aerospace engineer at the National Aeronautics and Space Administration (NASA), where she helped build spacecraft that map the moon, monitor climate change, and bring back soil and rocks from Mars. Her work has contributed to advancing the body of knowledge about the earth and global warming, and outer space and black holes.
She was the first woman to earn a PhD in Mechanical Engineering from Howard University and the first African American woman at the NASA Goddard Space Flight Center to do so.  Among her numerous awards and distinctions, Aprille Ericsson-Jackson is number 8 on the Business Insiders list of the Top 23 Most Powerful Engineers in the World.
Born April 1, 1963, the eldest of four daughters of Henry Ericsson and Corinne Breedy Ericsson, Aprille Joy attended public school in Brooklyn, NY, until high school.  Although she earned admission to elite New York exam schools, including Stuyvesant High School and Bronx High School of Science, she chose to attend the Cambridge School of Weston, a private high school where she had been granted a full scholarship and could live with her maternal grandparents in Cambridge, Massachusetts.
In the summer of her junior year Aprille participated in a rigorous six-week summer program at MIT, designed to prepare minority students for STEM fields. She embraced learning about aeronautics, fueling her passion and determination to work at NASA and be part of the space program.  Her acceptance as an undergraduate to MIT followed, where she graduated with a Bachelor of Science degree in Aeronautical/Astronautical Engineering in 1986, the  year of  the Challenger disaster.  At MIT she concentrated on projects related to crewed space flight in pursuit of her dream of becoming an astronaut.
From MIT, Aprille journeyed to Howard University in Washington DC to earn a master's degree in engineering, and to accept her first job as an aerospace engineer at NASA's Goddard Space Flight Center. But asthma and a knee injury derailed her path towards space travel. Again undaunted, she returned to Howard to earn a PhD combined with her work at the Goddard Center developing space flight instrumentation.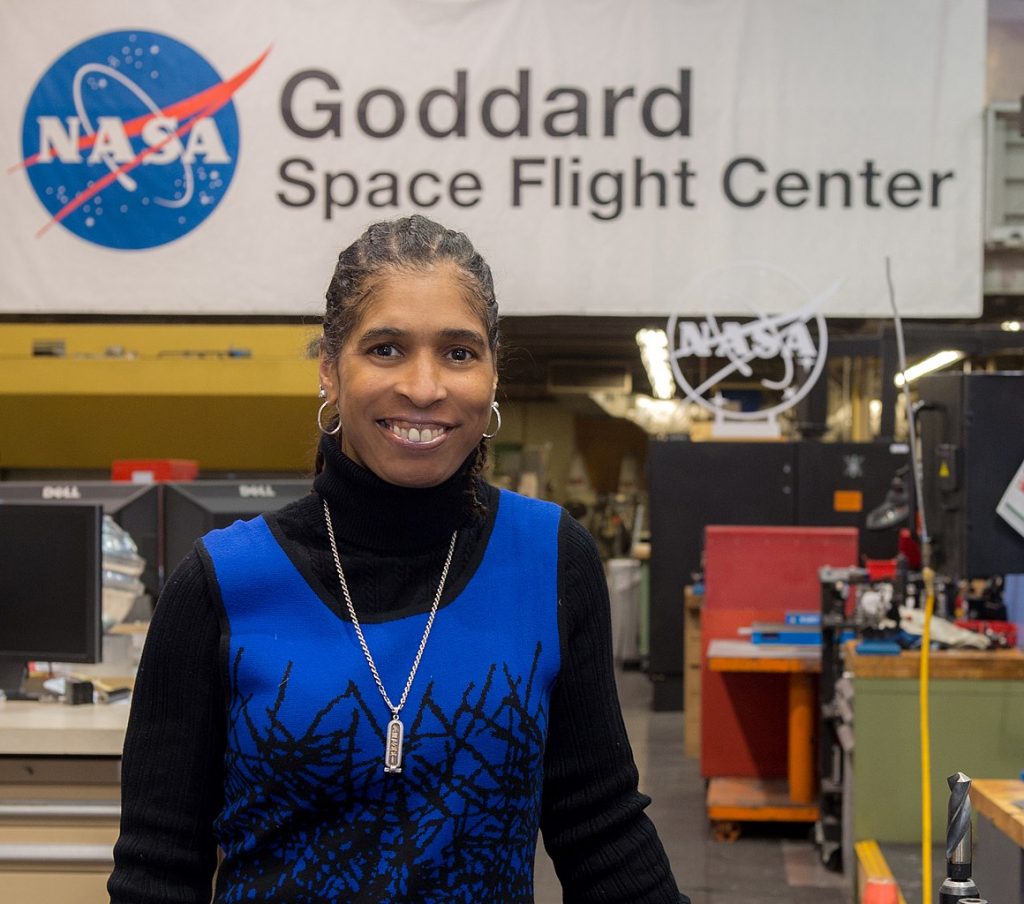 Aprille has held a variety of significant positions in her 31-year career at NASA, including the areas of robotics and guidance and control. She was an instruments project manager leading a team that developed the Near-Infrared Spectrograph on the James Webb Space Telescope and was the Instrument Proposal Manager for a Mars mission. She is currently the New Business Lead in the Instrument Systems and Technology Division, where she cultivates collaborative relationships between government, small business and universities to research and develop innovative technologies. She also teaches mathematics and mechanical engineering at Howard and Bowie State Universities and is a much sought-after speaker at conferences. She graces the boards of the National Academies, Howard University and one of MIT's advisory boards.
Aprille has been recognized for many contributions and advancements to the field of aerospace technology, with numerous awards including a place in the Top 50 Minority Women in Science by the National Technical Association, and the Ralph Coats Roe medal from the American Society of Mechanical Engineers in recognition of her international work in encouraging young people, especially women and underrepresented minorities, to pursue careers in STEM.
Aprille gratefully acknowledges the legacy of NASA's Hidden Figures (of the so-named book and movie) Mary Jackson, Dorothy Vaughn and Katherine Johnson, on whose shoulders she stands and whose trail she continues to blaze for the next generation. She is a passionate advocate for diversifying the STEM fields, devoting her time to mentoring women and people of color in STEM careers. She works with students of all ages to promote and sustain interest and curiosity in math and science, and encourages girls to take more math classes. At her daughter's STEM school, she has conducted LEGO competitions and robotics teams. She also returns to mentor students at MIT.
Asked about the biggest challenge in her distinguished career, she says, "My greatest challenge is climbing the ladder of success and pulling others behind me." And she does so with grace and the joy that gave her a middle name.
Aprille Joy Ericsson-Jackson – scientist, engineer, professor, mentor, trailblazer, activist, changemaker, wife and mother.
Image attribute/sources 
Header: Creative by JPM,  using Aprille Ericsson-Jackson LinkedIn profile image, https://www.linkedin.com/in/aprille-ericsson-a7321b176/
2nd image was originally posted to Flickr by NASA Goddard Space Flight Center at https://flickr.com/photos/35278629@N08/24827529912. It was reviewed on 12 March 2017 by FlickreviewR and was confirmed to be licensed under the terms of the cc-by-2.0.