By Joan Reissman
Of the four MCAS science tests, most students choose Biology
In three weeks, Massachusetts students will be taking the new Next Generation MCAS 2.0 science tests for the first time. The last administration of the old Legacy MCAS Biology test was in February. That was the last test based on the old standards of 2006 and 2016. From now on, Biology and Introductory Physics will be Next-Generation 2.0 tests and will only be given online (unless the school makes a special request for a paper-based test as an accommodation).
There are four different MCAS science tests:  Biology, Introductory Physics, Chemistry, and Technology/Engineering.  Most students choose Biology  (76% in 2019 and 75% in 2021) with Physics a distant second (21% in 2019 and 24% in 2021).   Beginning in 2024, the Chemistry and Technology/Engineering tests will be eliminated because of low participation rates (3% in 2019, less than 1% in 2021). Only Biology and Introductory Physics will be offered to the class of 2026 and beyond.  The last chance to take all four tests will be in June 2023. That will be the last administration of  Chemistry and Technology/Engineering. Both tests will be paper-based with 2006 standards.
Since the vast majority of students take the Biology test, we will focus on it in this post.
What score will you need to pass? The scale is different than Math end ELA, which require a score based on the Next Generation 2.0 scale. In science, you only need a score of 220 on the old Legacy scale. That means you have to get about 21 questions correct out of 45 to pass. Students in the classes of 2024 and 2025 will still only need 220, but they will not be able to use the alternate graduation standard of completion of an eligible course. This option is still available to the classes of 2022 and 2023.
See https://www.doe.mass.edu/mcas/graduation.html
Who is eligible to take this test? The eligibility rules are identical to the February test.
Students in grade 9 and 10 who have completed or are expected to complete a high school biology or introductory physics course and have not yet earned a 220 on a STE MCAS test.
Students in grades 11 or 12 who do not have an eligible course for the modified Competency Determination in STE.
Adult learners in the class of 2019 or earlier who have not yet earned a 220 on a STE test.
See https://www.doe.mass.edu/mcas/tdd/sci.html?section=transition
The first consideration is to be sure students are comfortable with the online test. Students in 10th grade don't have to worry because they will have taken MCAS 2.0 in ELA and Math in March and May. But students in 9th grade may not have taken a computer-based test, and the percentage of 9th grade students taking the Biology test is much higher than the percentage of 10th graders. Students may have been in another state or country and may not be familiar with computer-based testing. They need to watch out for mistakes on simple format questions.
If a student is really uncomfortable with computer-based testing, she may need to do the test mechanics tutorial on DESE's MCAS support site to practice test mechanics (TestNav8 tutorial).
If there are enough students in the class who need practice, the teacher can go over the tutorial with the whole class. Most of the tutorial is geared to ELA and math, but the practice with layout and technology-enhanced questions will be useful in Biology too. This section of the website also contains a practice high school Biology test. Use this link for the test and tutorial http://mcas.pearsonsupport.com/student/.
Students will also benefit from taking paper-based versions of the science test. Students can go to https://www.doe.mass.edu/mcas/release.html and try several tests from previous years.
This new Biology test may seem new and scary to students, but the differences lie more in the format than the content. Science is changing all the time as researchers unveil new discoveries, but many of the basic scientific principles remain the same. The information being tested here is on a high school level, so students will only be tested on established concepts.
Even though the format is new, the overall test is not very different. The new test will be about 45 questions, just like the old test.  However, there are two important differences: the new test will have 3 and 4 point "constructed response" questions as well as technology-enhanced questions.  Both old and new tests have 5 constructed responses and single-answer multiple choice questions, so that will remain the same.  
MCAS 2.0

LEGACY
TEST ITEMS by Type per Form

The reporting categories are different, but these changes reflect the structural differences between the 2006 and 2016 standards. Evolution and Ecology remain at 20 percent in Legacy and Next Gen 2.0. Molecules and Heredity in MCAS 2.0 match the 60 percent of Biochemistry and Cell Biology, Genetics and Anatomy in the Legacy test.

How different are the tested concepts? Let's look at an example from the new practice test and a paper-based test. The difference is in the way the information is presented, rather than the knowledge needed to answer the question.
Here are two examples of mitosis questions:
MCAS 2.0 Mitosis Question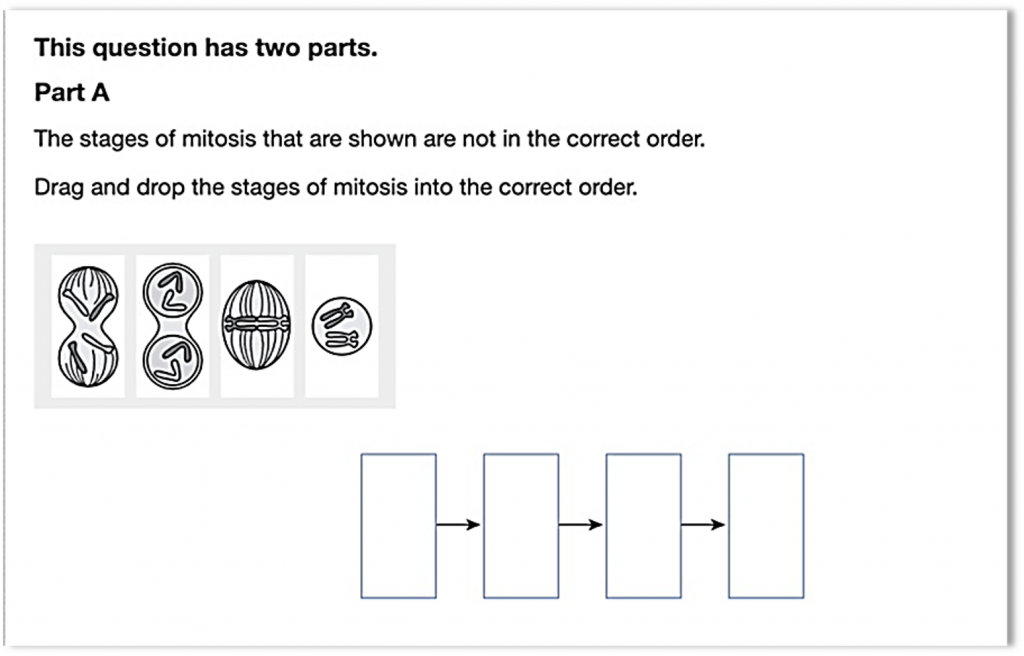 Legacy Mitosis Question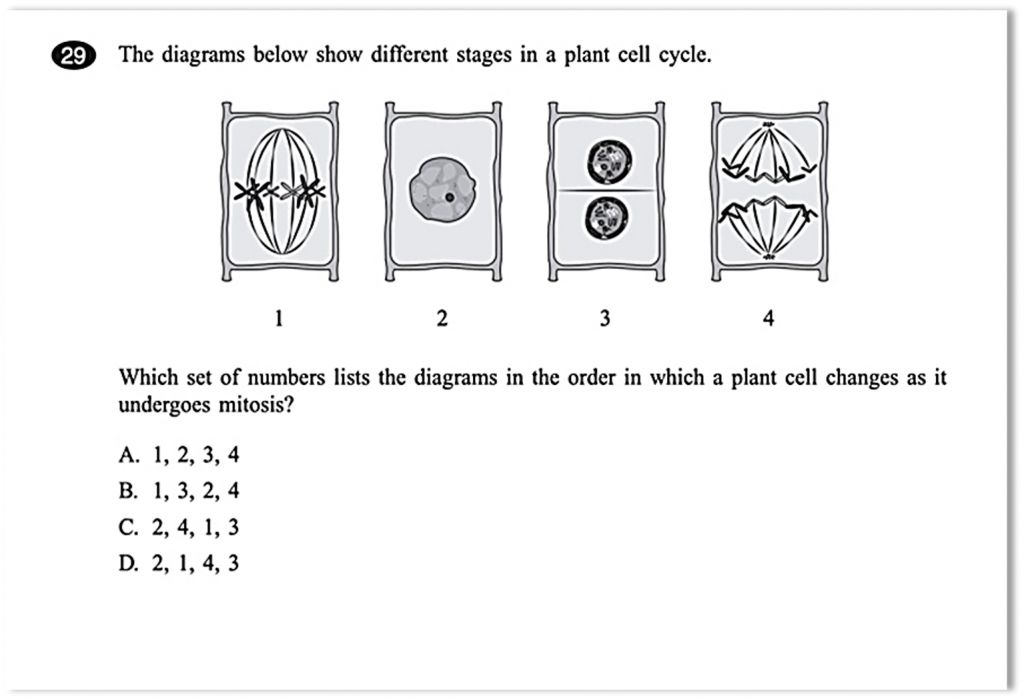 As you can see, the questions are quite similar. The difference in the new MCAS 2.0 is the technology-enhanced format. If students are comfortable with this format and have been studying the material all year, they should not have any trouble answering the questions. Practice is the key.
Since this is the first year of the new Biology test, we don't how closely the June test will resemble the practice Next-Gen test on the DESE website. It is more useful to look at the standards that were tested in 2019 and 2021.
Here are the most frequently tested standards for the last two test administrations: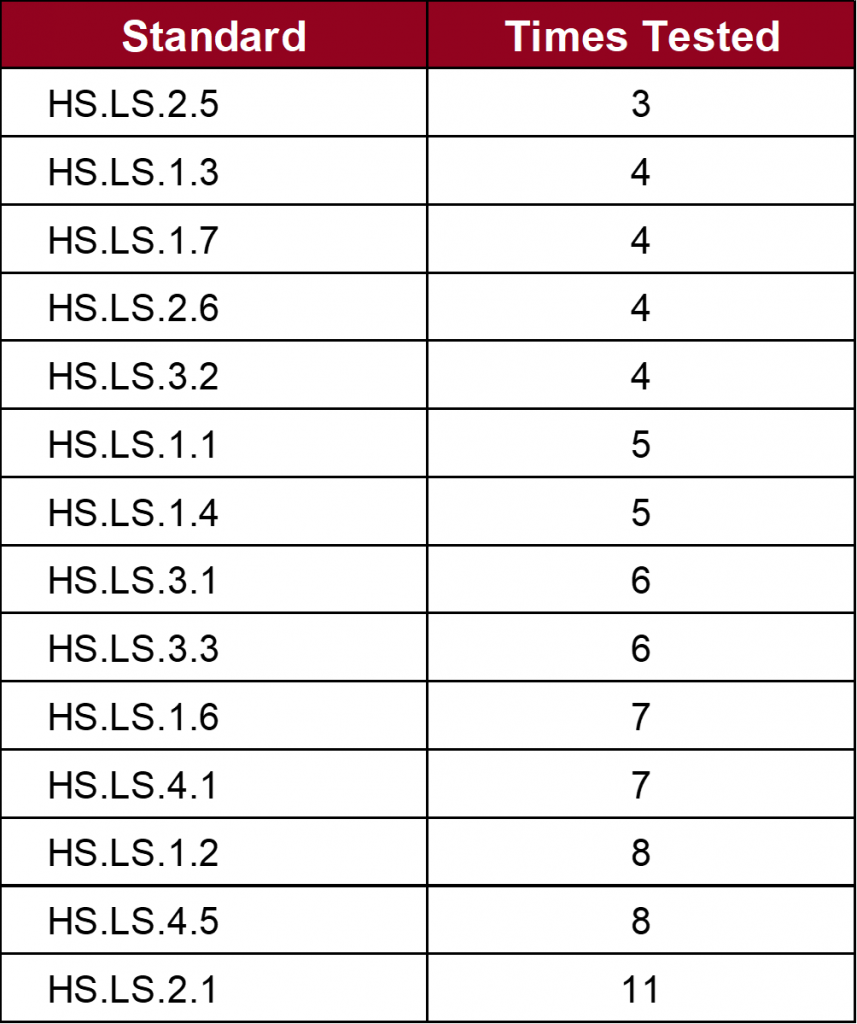 That's only 14 standards, so it would be easy to review them in the next weeks. Students could review the relevant chapters in CK-12 ( https://www.ck12.org/). This is a free online program with very short readings and review questions. If you really need to fast track, just review the 9 standards that have been tested 5 or more times. Concentrate on standards from the beginning of the year– those are the concepts that students are most likely to have forgotten.
With format practice and content review, students should not be afraid of the new test. Some questions might be a little more difficult and require some higher-order thinking skills, but the content is not so different– plants still need carbon dioxide and sunlight for photosynthesis.
With some guided preparation, students can get 220 on this test—and more.
Good luck!
Joan Reissman, the MCAS Maven, is a JFYNet Curriculum Specialist. She has been analyzing MCAS tests since 2000.
---
Other posts authored by Joan can be found here.
---
HOW ARE WE DOING? In our pursuit to serve up content that matters to you, we ask that you take a couple of minutes to let us know how we're doing? Please click here to be navigated to our JFYNet Satisfaction Survey. Thank you!