by Eileen Wedegartner
How language and mindset empower teachers and impact students
In 2016, I enrolled in a Sheltered English Immersion (SEI) Endorsement class for teachers offered by the state. The professor mentioned two books by Douglas Fisher, Nancy Frey and John Hattie, one for ELA and the other for mathematics. I bought the ELA book, Visible Learning for Literacy, Grades K-12: Implementing the Practices That Work Best to Accelerate Student Learning.

The book is clear and concise. It provides many great tools that teachers can use in the classroom to impact student learning. The text is accompanied by video links and explanations of real-classroom scenarios that demonstrate best approaches for Fisher's three levels of learning: surface learning, or information recall; deep learning, or being able to recall and evaluate; and transfer, or being able to process information and skills, then applying them to a new experience. It is one of those books that, when you talk to other educators about good practice and methods to maximize student learning, you are bound to reference.
My copy is thoroughly marked up with annotations, highlights, digital bookmarks and coffee stains. Most heavily underlined are the closing lines:
What teachers do matters when they monitor their impact and use that information to inform instruction and intervention. What teachers do matters when they reject institutional practices that harm learning. And best of all, what teachers do matters when they make literacy learning visible to their students, so students can become their own teachers. (Fisher)
Teachers have an incredible impact on student learning and knowing this helps with teacher agency. I found it especially helpful in a class about SEI instructional practices and impactful for students who may not enter the room "ready." I love the language Fisher used in 2016 about accelerated learning. While accelerated learning was often used to describe opportunities for gifted and talented students, Fisher's use of it for students who needed extra support or remediation was a critical paradigm shift.
The language we use to address learning matters. Fisher's rhetoric sets the stage for success. Mistakes and errors are "hallmarks of learning." They are to be expected and celebrated because when we make mistakes, we are stretching ourselves and learning occurs. Hopeless optimist that I am, Fisher's framing won me over.
Beyond language, as an educator I also rejoiced at the Success Criteria: presenting students with models of expected outcomes and clearly articulating Specific, Measurable, Attainable, Relevant, Time-bound (SMART) learning goals. When I noticed that Fisher had partnered with one of the software products we use in schools, I was excited to share it with teachers.
Then it was the spring of 2020 and everything went amok. Classroom practice was turned on its head, students were hard to reach, and teachers could not measure their impact. As a parent, I have watched my children's teachers doing some hefty lifting. They shifted to new and different teaching models even while they learned them. Leaders, administrators, teachers, and parents alike went into triage mode. The fear of how much students were losing academically, socially and emotionally was palpable. When I had the opportunity to listen to Doug Fisher again, I was all in.
In a recent webinar he again addressed the job that lies ahead of teachers and learners. As we wrap up this fraught year and prepare to move back into the classroom in the fall, Fisher inspires his audience to think about the "unexpected learning" that has occurred. Examples include learning to cook, mastering a new sport, and trying something new. He gets us out of the deficit mindset, shifting from remediation to acceleration, learning loss to unfinished learning.
As he notes, we will all rebound from this. Students will grow, and there are ways we can help them grow. The language we use to talk about student learning matters. Changing that narrative provides us with more opportunities to embrace new practices. I am happy to see that leaders in Massachusetts embrace the growth mindset and growth language. With the right approach, we can rebuild student confidence, teacher agency, and continuous improvement.
It is exciting to know that we partner with a software program that embraces Fisher's work, and provides ways that teachers can employ the language and practice of visible learning to accelerate student achievement.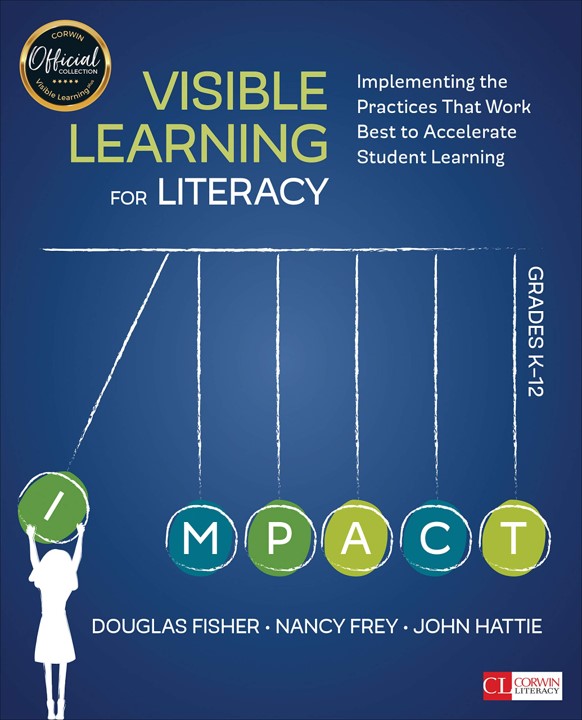 Douglas Fisher, Visible Learning for Literacy, Grades K-12, p. 167. (Corwin Literacy) SAGE Publications. Kindle.
Image source: Visible Learning for Literacy, Grades K-12: Implementing the Practices That Work Best to Accelerate Student Learning (Corwin Literacy) by [Fisher Douglas]
https://images-na.ssl-images-amazon.com/images/I/81XO8OYm18L.jpg
Eileen Wedegartner is a learning specialist with JFYNetWorks.
Other posts authored by Eileen can be found here.
---
HOW ARE WE DOING? In our pursuit to serve up content that matters to you, we ask that you take a couple of minutes to let us know how we're doing? Please click here to be navigated to our JFYNet Satisfaction Survey. Thank you!