The Legacies of Sister Rosetta Tharpe, Charles Mingus and Marian Anderson
Music brings joy to all our lives and Black musicians have been significant contributors of that enlivening emotion. As we recognize notable people during Black History Month, we should remember that Black musicians have played an essential role in many genres: jazz, blues, classical, R&B. rock and hip-hop. Artists such as Sister Rosetta Tharpe, Charles Mingus and Marian Anderson have pushed esthetic and social boundaries and forged new sounds and new standards. Their contributions are not circumscribed by music: they also influenced American history as agents of social change. The contributions of Back musicians to our society will be recognized for many generations. There are too many artists that are part of this story even to list them all. We will focus on a few this week and a few more next week; but keep in mind that there are many others.
Sister Rosetta Tharpe-- The Godmother of Rock & Roll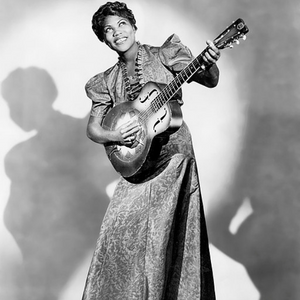 Who invented rock & roll?  You would probably name Chuck Berry or Elvis Presley or a few other familiar hit-makers, but unless you're a specialist you probably would not name Rosetta Tharpe. Born in Cotton Plant Arkansas in 1915, her parents picked cotton but were also musicians involved in The Church of God in Christ. Rosetta was a child prodigy. Her parents recognized her talent at an early age.
She began playing at four and started traveling with her mother and evangelist musicians at age 6.  After traveling for a while, Tharpe and her mother moved to Chicago for better opportunities and began performing gospel concerts.
Tharpe's performances were groundbreaking. She is considered one of the first gospel stars who bridged the gap between gospel, blues and rock music. At the time, gospel singers didn't play an electric guitar.  They didn't stomp and shout.  They didn't mix gospel music with blues and electric guitar.  Tharpe was one of the first famous gospel stars, and she was the first gospel star to appeal to a wider audience. Her style of playing electric guitar with heavy distortion was  influential for British blues and American rock musicians.  However, her mixture of gospel and secular lyrics, and her raucous playing style, shocked the conservative gospel audience.  They were not used to such a fusion of gospel lyrics with electrified music.
Unlike Mahalia Jackson, who only played in certain venues, Tharpe was willing to bring her act into nightclubs and other secular places where gospel music had never been played. Tharpe continued experimenting with her sound and eventually got a regular gig at the Cotton Club, a very popular Harlem spot during Prohibition. She was only 23.  During the 30's Tharpe released several successful singles that were a unique mixture of gospel and rock 'n roll that included such hits as "Rock Me," "My Man and I" and "That's All." Her incredible voice and unique style make her one of the first crossover musicians.
She collaborated with famous musicians such as Duke Ellington and the Jordanaires in the early 1940s. Through the Jordanaires (an all-white male group) Tharpe began performing for mixed audiences. Even though famous, she was still subject to institutional racism. On tour she often had to eat in the back of restaurants and sleep on buses.
In 1944 she recorded one of her biggest hits, "Strange Things Happening Everyday," with Sammy Price. This song was a huge hit and the first crossover song to make it to the top ten R&B charts. Was it the first rock 'n roll song?  Whether or not it was the first,  it influenced the first generation of rock 'n rollers.
Then Tharpe met her long-term partner, Marie Knight. They performed together for many years, touring the country in the 1940s.  They controlled the business end of their tour.  They made their own decisions, hired the bands and booked the engagements. The duo split up as their popularity began to flag around 1949 as young white men began experimenting with rock music. Tharpe still found opportunities. In 1952 she recorded the first interracial duet — Have a Little Talk with Jesus–  with Red Foley. And she turned her third marriage into a concert with 25,000 paying customers at Griffith Stadium in D.C.
Tharpe was always looking for new audiences. As her popularity in the U.S. dwindled, she took off for Europe and a new generation of fans on a new continent. In 1964 she toured Europe with Muddy Waters and Otis Spann. The highlight of this tour was a televised concert recorded at an abandoned railway station in Manchester, England. The band played on one platform while the audience was seated on the platform across the way. Keith Richards of the Rolling Stones said that this concert had a tremendous influence on him.
Sister Rosetta Tharpe was the first popular gospel singer to fuse religious themes with secular rhythm and blues. She was one of the most influential musicians in the evolution of rock music.   When asked about her music and rock & roll, Tharpe said, "Oh, these kids and rock & roll — this is just sped-up rhythm and blues. I've been doing that forever."1
Tharpe continued to record until her death in 1973.  Her impact on the genre was finally recognized with her induction into the Rock & Roll Hall of Fame in 2017 as an early influencer.
1
https://en.wikipedia.org/wiki/Sister_Rosetta_Tharpe#cite_note-allmusic.com-3
Image source: https://commons.wikimedia.org/w/index.php?search=rosetta+tharpe&title=Special:MediaSearch&go=Go&type=image This work is in the public domain in the United States because it was published in the United States between 1928 and 1977, inclusive, without a copyright notice.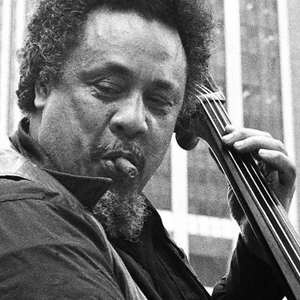 Charles Mingus was one of America's greatest jazz musicians. Although he is most famous as a bass player, he was also a composer, band leader, pianist, and author. His work with group improvisation, or, as he called it, "organized chaos," was one of his most significant contributions to music. Mingus's work ranged from bebop to avant-garde with ensembles. He pioneered the post-bop style with big band experiments.  During his long career, he played with many of the greatest jazz musicians. 
A true innovator,  he is recognized today as one of the most influential jazz musicians of his time.
Mingus was born in Arizona in 1922 but grew up in California.  His mother allowed only church music in the house, but Charles found a way to listen to other types of musicians like Duke Ellington. He studied the trombone and cello.  He did not pursue the cello professionally because there were few opportunities for Black musicians in classical music. Bass was not an instrument used in jazz at that time. Always attached to the cello, Mingus eventually found work as a bass player once the instrument had been incorporated into jazz groups.
Although he wanted to join the local youth orchestra, he failed the audition because he couldn't read musical notation well.  He felt ostracized and he continued to address racism and injustice in his music throughout his career.
Mingus benefited from his cello studies when he took up the bass in high school.  He became known as a bass prodigy and toured with many bands including Louis Armstrong. In the late 1940s he played with Lionel Hampton. He wrote several pieces for Hampton.  He also played in a trio with Red Norvo and Tal Farlow. Although the trio garnered considerable acclaim, Mingus's race was not accepted by club owners, and he had to leave the group.1
Even though Mingus played with many greats, his temper caused him troubles. He was one of the few musicians to be personally fired by Duke Ellington after a backstage fight with trombonist Juan Tizol.2
One of Mingus's most notable accomplishments was his Jazz Workshop with mid-size ensembles of rotating musicians. Mingus challenged the musicians and they had to be able to respond with improvisations. Many of these sidemen– Pepper Adams, Jaki Byard, Booker Ervin, Jimmy Knepper, Charles McPherson– became important jazz musicians in their own right. Mingus's collective improvisation– his organized chaos– was the springboard for free jazz.
The 1950s were his most productive years: he produced 30 records. One of the most important was Pithecanthropus Erectus. The title song describes the rise and fall of man from early humans to modern degenerates. Another important recording was Mingus Ah Um in October 1959.  This album included the track "Fables of Faubus," a stinging protest against the Arkansas governor's brutal treatment of the Little Rock Nine in 1957.  A version with lyrics was not released until 1960.
Mingus was a difficult man, notorious for his temper.  He fired musicians in the middle of a set  and yelled at audiences for making noise. He ruined trombonist Jimmy Knepper's embouchure with a punch in the mouth. Yet he continued composing and performing until his health problems became too debilitating. He died at 56. His work was as dynamic as his personality.   He claimed it reflected his ever-changing emotional state. In an interview with the producer Nesuhi Ertegun, Mingus explained that the smoldering, sizzling force of his music was a reflection of everything happening inside. "What I'm trying to play is very difficult, because I'm trying to play the truth of what I am," Mingus said. "The reason why it's difficult — it's not difficult to play the mechanics of it — it's because I'm changing all the time."3
1https://en.wikipedia.org/wiki/Charles_Mingus
2Hentoff, Nat (1978). Jazz Is. W.H. Allen. pp. 34–35
3https://www.nytimes.com/2022/04/21/arts/music/charles-mingus-centennial.html
Image source: Charles_Mingus_1976.jpg: Tom Marcello Webster, New York, USA. Creative Commons Attribution-Share Alike 2.0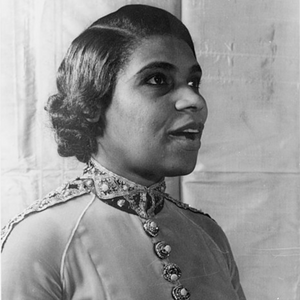 Marian Anderson was an American contralto born in 1897. Marian's father, John Anderson, died when she was fifteen and the family was forced to move in with John's parents.  Marian's mother Anna found work cleaning to support the family. Marian managed to develop her vocal abilities and perform despite struggling against financial hardship and prejudice. Marian's talent was recognized at an early age. She began singing with the church choir at age 6.
Although her father bought her a piano, he could not afford to pay for lessons, so Marian taught herself. At age 13 she began performing at churches.  She was so popular that she started charging admission for her performances. When Marian was in high school she applied to a local music school, but was rejected because of her race. The Philadelphia Choral Society held a benefit for her and raised enough money to pay for two years of lessons with Agnes Reifsnyder, a leading contralto. After high school, Marian's high school principal introduced her to an important teacher. Giuseppe Boghetti.  Boghetti was so impressed with Marian's talent that he gave her free lessons for a year. In 1925, Marian entered a competition in New York City.  She beat 300 competitors to win first prize: a recital with the New York Philharmonic. The concert was such a success that the agent Arthur Judson asked to represent her.
Marian began touring in the late 1920s. She toured the Southern and Eastern states and performed at Carnegie Hall. Despite critical acclaim and popularity, she was not expanding her audience.  Many venues still refused to book her because of her race.
Marian found more opportunities in Europe. After winning a scholarship to study in Britain, she performed all over Europe. She was widely appreciated– she even played for monarchs. Another impresario, Sol Hurok, heard Marian and signed her for a series of concerts in America. This tour brought Marian the wider audience she had been seeking.
Despite her success, Marian was still limited by segregation laws and restrictions. The most egregious incident occurred in Washington, D.C.,  in 1939 when the Daughters of the American Revolution (DAR) refused to let her perform at Constitution Hall, citing a "whites only" policy. The DAR's affront led to widespread protest. First Lady Eleanor Roosevelt resigned from the organization. The NAACP convinced Interior Secretary Harold Ickes to offer a free concert on the steps of the Lincoln Memorial.  The concert drew an estimated 75,000 people with millions of radio listeners. Ten-year-old Martin Luther King, Jr. later commemorated this concert in a speech and noted its significance. Marian herself defined the meaning of the event when she said, "I could see that my significance as an individual was small in this affair. I had become, whether I like it or not, a symbol representing my people."1 When Marian Anderson finally performed at Constitution Hall in 1943, she insisted that the hall suspend its segregated seating policy.
Marian broke another barrier when she performed at the Metropolitan Opera House in 1955. She was the first Black opera singer to perform there. The audience gave her a standing ovation before she even began singing. She was made a permanent member of the company.
Marian expanded her role in history when President Eisenhower appointed her a delegate to the United Nations Human Rights Committee. She sang at Eisenhower's and Kennedy's inaugurations– the first Black person to do so. She continued to tour in the sixties, but she often preferred to tour Europe where she didn't have to worry about finding accommodation or dining. Although she didn't protest publicly about the segregation she faced, she did insist on integrated seating for her performances. Later she refused to sing in any venue that would not comply. Anderson saw herself as more of a model than a rebel. She would take meals in her room and travel in drawing rooms on night trains. She said: "If I were inclined to be combative, I suppose I might insist on making an issue of these things. But that is not my nature, and I always bear in mind that my mission is to leave behind me the kind of impression that will make it easier for those who follow."2
Marian Anderson's legacy continues to inspire, although Blacks are still not proportionally represented in the world of classical music. Anderson's influence on classical music and the civil rights movement is widely admired. Throughout her career, Marian relied on her talent to overcome obstacles. Her determination in the face of discrimination serves as a testament to the power of music to break down barriers.
1http://marianandersonhistoricalsociety.weebly.com/biography.html
2http://marianandersonhistoricalsociety.weebly.com/biography.html
Image source: Portrait of Marian Anderson singing. Gelatin silver, 14 January 1940. This image is available from the United States Library of Congress's Prints and Photographs division under the digital ID cph.3c03734
Next week, we will appreciate a few more great Black American musicians.
Joan Reissman is a JFYNetWorks Learning Specialist.