Discovering Lowell in Cambodia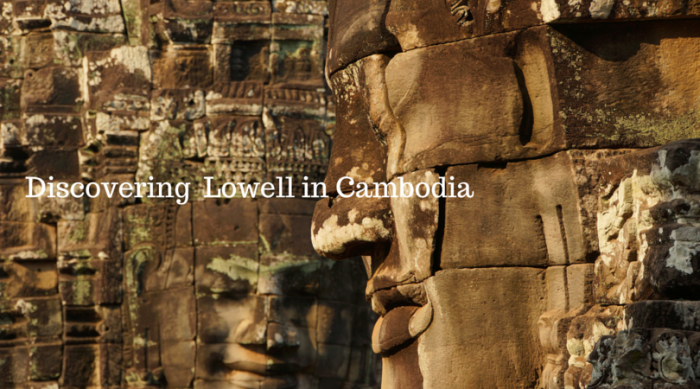 by Michelle Ciccone | JFYNetWorks Blended Learning SPECIALIST
In July I travelled to Vietnam and Cambodia for two weeks. It was a great visit crammed with amazing experiences. I learned how to cross the swarming streets of the Old Quarter in Hanoi: go slow and steady and the zig-zagging traffic will deftly maneuver around you. I sailed through Halong Bay, one of the seven natural wonders of the world. I walked among the 1,000 year old ruins of Angkor Wat, Banteay Srei and dozens of other temples. I ate delicious and unfamiliar street food in Phnom Penh and relaxed on the Cambodian coast in a Khmer bungalow.
Southeast Asia is a voluptuous feast for the senses, but a visit to the region also demands attention to its tragic recent history. The first thing any cab driver in Phnom Penh will ask is, "Have you been to the killing fields?"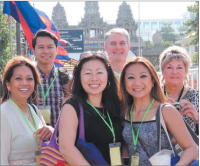 It's very urgent to Cambodians today that visitors learn about this dark period in Cambodian history, 1975-1979, when the Khmer Rouge killed 2 million Cambodians, nearly a quarter of the population, in a horribly conceived social experiment. Just outside of Phnom Penh is the museum memorial at one of the dozens of "killing fields" scattered across the country, where thousands were killed and buried. A visit there should be coupled with a visit to S-21, the former high school where thousands were imprisoned, tortured, and killed. These places make a sobering day of site-seeing; but it is important to bear witness to this terrible episode in human history. A visit to these sites provides background and context for Cambodia today, which is one of the most welcoming, buoyant and exciting places I have ever been. Despite its tragic history, it lives up to the sobriquet "land of smiles."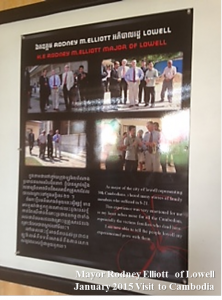 During my visit to S-21 I walked through several exhibits including a display of photos of international dignitaries who had visited the museum. Among the pictures of Hillary Clinton, Ban Ki-moon and other world figures, I was startled and pleased to see the familiar face of Mayor Rodney Elliott of Lowell. I was startled—but, when I thought about it, not surprised.
For the past two school years I have been lucky enough to work in Lowell High School coordinating the JFYNetWorks college readiness program. I've gotten to know the students and community, and spoken with many Cambodian-American students about their background and culture. Lowell has the second largest Cambodian population in the United States, with estimates as high as 40,000 Cambodian- Americans living in Lowell today. The Cambodian community in Lowell hosts many cultural events to celebrate Cambodian identity and educate the larger Lowell community about Cambodian heritage. Cambodian food in Lowell is delicious! Many days after my work at Lowell High I stop at one of many favorite Cambodian restaurants to eat beef lok lak or fish amok. It's one of the many perks of working in Lowell!
Mayor Elliott traveled to Cambodia in January 2015 along with several other representatives from Lowell, including leaders of the Cambodian- American community. The purpose of the trip was to commemorate the 40th anniversary of the establishment of refugee camps during the Khmer Rouge regime. Mayor Elliott and the other members of the delegation traveled to Cambodia to learn more about Cambodian history and culture in order to better serve the Cambodian -American population of Lowell.
Without knowing it, I was traveling in Mayor Elliott's footsteps and following his example by acquiring a better understanding of the students I work with at Lowell High and their families. It's a great honor to work with these students and help them reach their goal of attending and graduating from college. My visit to Cambodia provided an indelible reminder of how we all benefit from living in diverse communities and learning about each other's culture and history. I can't wait to return to Lowell High in the fall with broader understanding and deeper appreciation.
---
Read other posts by Michelle
---