We promised to NEVER FORGET
JFYNet staff remembering that fateful day.
Paula Paris
September 11, 2001, was a day that changed the narrative of life in the United States as we once knew it. Wars were always fought somewhere else. The attacks on the World Trade Center and the Pentagon, and the thwarted attack on the mystery target of United Flight 93, changed that narrative irreparably.

All our lives changed, more profoundly for some than others. I have so many reflections about that day, not the least of which is that this is the first time in 19 years that there are no U.S. troops in Afghanistan on the anniversary. But foremost in my memory are the following four.
Shortly after the news broke about the attacks I received a frantic phone call from my daughter in Atlanta, Georgia. She was just 10 days into her freshman year in college. Panic had already swept the campus with a rumor that Coca-Cola, a quintessential symbol of America headquartered in Atlanta, was a target of another attack. The college administration evacuated the campus. But where was everyone to go? No alternative provisions were made. There were no planes, trains, or busses, and it would take at least 18 hours of straight driving to get to Boston. After a series of phone calls, my daughter was rescued by a family friend who drove in from an Atlanta suburb to pick her up and bring her to her suburban apartment where she stayed for the next few days until the campus re-opened. She packed her belongings from her dorm room and took one of the first flights to Boston. Being separated from my child during those four anxious days was terrifying for both of us. I can't imagine that I will ever be as glad to see her as I was when her plane finally landed at Logan airport.
Simultaneously, I was also inquiring about my godson, who works at the Pentagon. I was assured by his mom that he wasn't working that day, but instead was sightseeing around Washington with his grandmother. To our relief, he later called to verify that they were indeed safe.
I was also sending out inquiries to a longtime friend, a flight attendant with American Airlines. When the first plane was identified as having originated in Boston, I thought "Well, she doesn't leave until Tuesday." But it was Tuesday—the week had begun the day after Labor Day. I had a sickening feeling that it might have been her flight. She wasn't answering her phone. I called one of her sisters and left a message. Around 6:00 PM her sister returned my call to say that my friend was safely at home, resting from the shock. American Airlines Flight 11, the first plane to hit the towers, actually was her flight, but she had traded schedules with a longtime colleague. The two old friends had earned their wings at the same time. That friend, a lovely young woman from Winthrop, died on Flight 11. The twist of fate is still chilling to think about. It is a memory my friend lives with every day.
In my scrapbook is a handwritten note that reads, "Dear Paula, Thank you so very much for your contribution to Gabi's scholarship fund. It will be a wonderful way to also honor Ari's life. Take good care. Love, Jenna." I never met Jenna. She is the sister-in-law of a former colleague whose brother, Jenna's husband, was at a breakfast meeting with a client that day at Windows on the World atop the North Tower. Their son Gabi was born six days later on September 17, 2001. Mine was one of the 1200+ acknowledgments Jenna wrote. She said she took comfort in writing each one.
This September 11, as in years past, I will go to Cambridge Fire Department headquarters to stand with the company and fellow citizens. At 9:55 AM the station will emit an emergency distress signal like the one that preceded the collapse of the South Tower in 2001, followed by the Fireman's Prayer in solemn remembrance of the 343 firemen who lost their lives attempting to save others that day; of those who have suffered from Ground Zero-related diseases and conditions; and of the 2997 victims and their families. That piercing distress signal is an annual reminder of just how much life has changed. It should also remind us how truly precious life is.
Joan Reissman
To say that I'll never forget 9/11 sounds like a cliché, but it's true. I grew up in New York City, so 9.11 was one of the more devastating days of my life. I was teaching in Boston at the time. The guidance counselor came upstairs and told us that one of the World Trade Center towers had been bombed. Fifteen minutes later she came up and told us that the other tower had been bombed.
Some of the students panicked– one had an asthma attack. I looked out my classroom window and all I could see was frantic people scurrying to the Park Street T station- desperately trying to escape downtown. Of course, I called my family. I was lucky to get through because after that it became almost impossible to reach anybody in New York for a week.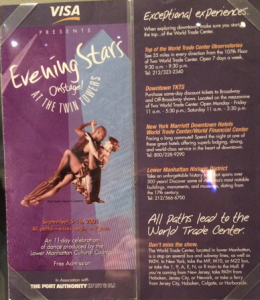 Nobody I knew well was killed, but many of my friends and relatives had close calls. Some caught a break. One friend had a meeting re-scheduled. Another was staging a dance concert for that night and was late for work–the poster for the concert is in the 9.11 Museum*. He heard the explosion and ran as fast as he could in the other direction. An acquaintance worked there but somehow managed to walk down over 90 flights of stairs.
Then there's the trauma no one talks about: those who were not victims but witnesses. My cousin worked across the street from the towers. His building was not harmed, but he saw the towers collapse and people jumping out the windows. Others were not so lucky: someone who had just transferred to the World Trade Center three weeks before and many other acquaintances too numerous and painful to enumerate.
I could not go down to that area for a long time, even after it was safe. When I went to New York about a month later, the city was still in shock. Everywhere you walked there were reminders. As soon as I arrived at Penn Station, I saw a bulletin board filled with urgent messages hoping for information on lost loved ones. Every few blocks you would pass a police or fire station with black funeral wreaths.
Today, people can visit the 9.11 Museum. The museum and the fountain are enduring symbols of an American tragedy. Twenty years is a long time. If you were born after 1980, your memories are faint or non-existent. It's strange to think that there are so many people alive now who were not even born in 2001. But for those of us who remember, the images of that day are with us forever and the rebuilding that started immediately and helped New York rebound is the mark of New Yorkers' indelible spirit.
*Brochure: Evening Stars on Stage! at the Two Towers.
Historical Notes : The World Trade Center Plaza was a frequent venue for music, dance, and theatrical performances attended by local residents, tourists, and those who worked nearby. On the morning of September 11, a stage was set up for an evening dance performance.
Credit Line: Gift of Janette MacKinlay, Gifted to the Memorial and Museum
https://collection.911memorial.org/Detail/objects/20711
Cathie Maglio
On September 11, 2001, I was working for a textbook publisher and traveling to the office in Needham every day. On this particular day, I decided to go into work late. While getting ready for work, I did not have a tv or radio on. In the car I listened to a CD, oblivious to what was happening in the world. When I arrived at work, I had no idea what people were talking about until I turned on my computer. I was shocked and horrified by the pictures I saw and the reports I heard. I got very little if any work done that day, glued to the news coverage on my computer. All I could think of to do was offer prayers for the people who died and their families.
Greg Cunningham
The phone call seemed inevitable. With so many friends, former students and fellow speech and debate coaches in New York City and Washington D.C., there was little doubt that the images churning over and over on the television screen would eventually come crashing home. But when I answered the phone that afternoon, my fears were only obliquely realized. The reported victim of the terrorist attack was not someone who lived in either city, but someone I had known from high school who was on United Flight 175 which had departed from Boston and crashed into the South Tower of the World Trade Center 49 minutes after takeoff.
Mark Bavis wasn't a close friend when we were in high school together. He and his twin brother Mike were hockey players and ran in different circles than my speech and debate teammates. But our high school class was small enough that everyone knew everyone and casual conversations in class, at lunch or in the hallway were common. I remember cheering for the Bavis brothers from the stands of Boston Garden at state hockey championships, then again at the Beanpot Hockey Tournament when they skated for BU.
The remains of most victims would not be recovered or identified for many months, but Mark's family and friends needed closure. A wake for Mark was held exactly one week after the attack. Waiting in line with hundreds of people, it was somewhat surreal: each of us had a direct connection with the images which had played incessantly on television, including the fateful moment when the plane in which Mark was traveling was engulfed by a massive fireball. Standing on the sidewalk, waiting to pay my respects to his twin brother and the rest of the family, it was difficult to comprehend the full reality of the situation.
In some ways, it seemed a miracle that he was the only victim to whom I had even an indirect connection. Friends and fellow coaches all checked in from New York City and Washington D.C. and all were safe. Even their friends and families were all reported to be safe. Only Mark, a long-ago schoolmate, was not safe.
It would have been easy to get lost in the numbers of that day: 2977 people died, thousands more were injured, many permanently disabled. Having one single personal connection to the events of that day somehow gave it a different reality. The sounds and images looping endlessly all that week could have been scenes from an action movie. But because of Mark, they were never abstract to me. They hit close to home. They were and always will be personal.
Patti Parisella
On this 20th anniversary of 9/11, I remember exactly where I was and what I was doing when the two planes crashed into the twin towers of the World Trade Center and another one into the Pentagon. I watched the events unfold on TV at work with my co-workers. I remember thinking how surreal it was, "Is this truly happening?" while watching the twin towers collapse. In that moment I thought the US had lost its infallibility. Since that day 20 years ago, I don't think that either our worst fears or our highest hopes have been realized. But the memory of that day serves as a constant reminder that we can't take anything for granted. Life is to be cherished. We honor those we love. We honor those we've lost. We need to protect our future.
Eileen Wedgartner
Tuesday September 11, 2001, started in a typical manner. The school year had just begun. All my classes were finishing up get-to-know-you activities, having done peer-to-peer interviews and verbal introductions that helped me, as the teacher, put names to the faces of the 122 new freshman and seniors I had that year.
The year was off to a great start, made even better because I did not have to float as a teacher, and I had my prep period in my classroom. Since Steph, a student teacher from the previous year, and I had the same prep period, we shared my classroom space to collaborate about good lesson planning. While I had a few years experience, I was only 26, so it was fair to say I was still wet under the wings. Nonetheless, it was great to have time with a fellow teacher to share our practices.
Internet connection was still in the works in the school. While there was intranet, getting connected outside the building was spotty at best, and smartphones were eons off. My prep period was early, second period, as was Steph's. We were sharing some morning talk about plans for the week and the term and the ups and downs of the first days of school when Steve, a guidance counselor, and a cheerful soul, knocked on the half-opened door, poked his head in, and said, "A plane just crashed into the World Trade Center." Then he disappeared.
Steph and I just looked at one another, trying to decide if Steve was just being a wise guy. We decided that he was so swift and so rushed it had to be real. Many rooms were equipped with television and some of them, including mine, could connect to cable. We turned on Good Morning America and listened to the hosts report on the surreal events.
Our first thought was that the plane crash might have been an accident. But then we watched the second plane smash into the second tower. I was stunned. Steph and I remained riveted to the screen. The world as we knew it was exploding before us.
At 9:35 the bell rang, and my prep period was over. We stayed in school the rest of the day. The administration asked us to shut off the televisions and use the time to try to set students at ease. There were too many unknowns. So, we taught and we consoled and we tried to keep it upbeat. We used the time to listen to students and we tried to soothe their fears, stifling our own.
When the announcement came over the loudspeaker that a third plane had hit the Pentagon, I poked my head into a colleague's room to ask him to keep an eye on my class and darted into a book room that was adjacent to my classroom. I made three calls. First, I tried to reach my mother, who worked at an investment firm, but all lines were down. Second, I called my father – a WWII and Korean War vet– who assured me that my brother, who often worked at the Pentagon, would be fine. Always level-headed and practical, he said to keep my head up and get off the phone to keep the lines open. I followed my dad's advice.
At the end of that month, I flew to D.C. for my brother's surprise birthday party. Walking through Logan and Dulles, I was awed at the number of military personnel with M-16s on duty. The world had changed.
---
HOW ARE WE DOING? In our pursuit to serve up content that matters to you, we ask that you take a couple of minutes to let us know how we're doing? Please click here to be navigated to our JFYNet Satisfaction Survey. Thank you!