'How the School Shutdown of 2020 Impacted Teachers & Students'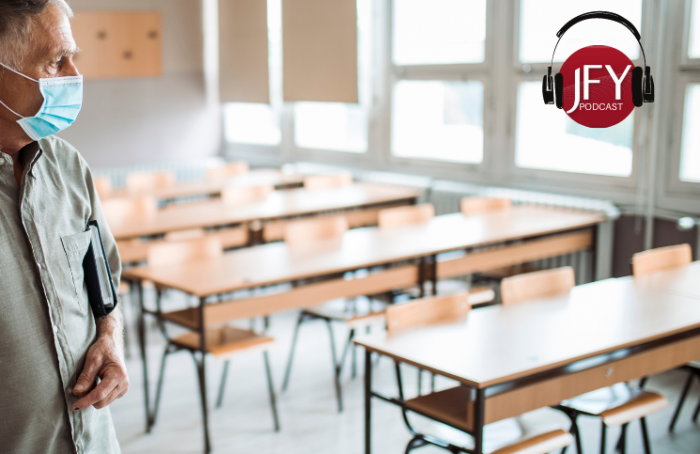 In Their Own Words
JANUARY 2021 PODCAST – During this past year, we have explored relevant and topical educational issues each month. In today's podcast, we'll take a look back at some of the memorable moments from our 2020 podcasts. Our focus will be on how teachers adjusted to the school shutdown.
Podcast transcript found here.
This compilation podcast features:
ADMINISTRATORS:
MICHAEL MARRAPODI, Dean of Online Programming at Cambridge College
JAMES WEAVER, the director of performing arts and sports from the National Federation of State High School Associations
KEVIN MCCASKILL, Executive Director, Madison Park Technical Vocational High School, Boston
JORGE SANTANA, Executive Director of the PACE Career Academy Charter School, Pembroke, New Hampshire
KENNESHA KELLY, co-founder and Executive Director of Kingsman Academy, Washington, DC
TEACHERS:
RACHEL SILVA, English Teacher, Durfee Academy, Fall River
LISA HONEYMAN, Math Teacher, Newton South High School
CHARLOTTLE BOCCUZZI, Special Education Paraprofessional, Ashland Public Schools
SETTENAH WRIGHT, English as a second language teacher for English Language Learning students, Madison Park Technical Vocational High School, Boston
STUDENTS:
JARIN, Durfee Academy, Fall River
EVAN, Durfee Academy, Fall River
HENRY, Needham High School
MAGGIE, Needham High School
SASHA, Needham High School
---
JFYNetWorks PODCAST feed can be found on PodBean.

---
HOW ARE WE DOING? In our pursuit to serve up content that matters to you, we ask that you take a couple of minutes to let us know how we're doing? Please click here to be navigated to our JFYNet Satisfaction Survey. Thank you!