Sometimes We Need to Be Reminded…
… that our schools are full of great kids, hard-working and creative teachers, overworked and underappreciated administrators, and effective programs.
Read more about some of these outstanding people, schools and communities in our series: Spotlighting JFYNetWorks Partner Schools… April 2018 edition.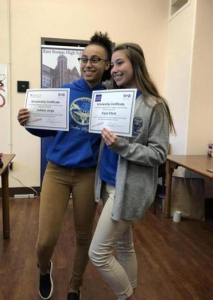 "They both represent the best of Scholar Athletes and of the Boston Public Schools."
Two East Boston High School students were surprised with full-tuition scholarships Tuesday for their academic and athletic achievements, Scholar Athletes announced.
Representatives from Curry College and Regis College surprised seniors Kayla Elliott and Juliane Jorge with the four-year scholarships, Scholar Athletes said in a statement.
Read more about Kayla and Juliane here.
Source: bostonglobe.com
The William J. Dean Technical High School in Holyoke has become the first career and technical education school in New England to grow organic greens indoors.
William J. Dean Technical High School is the first school in New England to feature the Evanlee Grow Racks, which is patented Super Grow System where organic vegetables are grown in primitive soil, indoors.
Students in the culinary program learn different aspects of the growing process such as seeding, watering, thinning new sprouts, and harvesting.
Full article found here.
Source: wwlp.com
Greater Lowell Technical High School recently hosted the SkillsUSA District IV Competition, and the school came out of the event with 71 students earning medals — either gold, silver or bronze — the highest number in the history of the school.
GLTHS was one of eight schools nationally to be identified for excellence in implementing the SkillsUSA frameworks related to technical skills grounded in academics, with particular emphasis on the Lowe's Community Outreach Open House Challenge.
Read more here.
Source: lowellsun.com