My family, on both sides, has a history of serving the country going back to the Revolutionary War. My mother has ancestors who fought with the Massachusetts colony against the British for independence. She also has ancestors in the Civil War, the Spanish-American War, and World War II.    
A few years ago, my mother's cousin traced the Tannatt family tree. When reading it, I found out about relatives  I had no knowledge of.   I discovered that I had a relative, Thomas Redding Tannatt,  from Salem, Massachusetts, who was appointed to the U. S. Military Academy at West Point on July 1, 1854. He graduated from the Academy on July 1, 1858, and was commissioned as a brevet second lieutenant, Third Artillery. He was assigned to Fortress Monroe in Virginia as an instructor in the use of the ballistic pendulum, a device for testing the firepower of weapons.  He  was made a member of an Artillery Board "to revise and establish a new table of ranges, for all guns in service, and others, submitted by the Secretary of War." He participated in the first Battle of Fredericksburg in August 1862, and  in many other battles until being severely wounded at the battle of Petersburg on June 16, 1864. He resigned as Colonel of Volunteers July 15, and as Captain 4th Artillery on July 18, 1864.
My mother's grandfather, John Tannatt was a veteran of the Spanish American war.
My mother's  uncle, Thomas Francis Tannatt, served in World War II as  a sergeant in the  305th Infantry Company, 77th Division. Uncle Francie, as he was called, never talked about his service but left us a book about World War II listing all the places he served:
July 21, 1944: Gaum
November 28, 1944: Philippines
March 16, 1945: Shikira Island
April 29, 1945: Okinawa
July 11, 1945: Cebia Puerto Rico
October 20, 1945: Japan
Uncle Francie was discharged from Fort Devens, Massachusetts, on December 5, 1945. I still remember the big oval picture of him in uniform that hung in my grandparents' living room.
The last veteran in my family was my dad, Joseph L. Maglio. He was drafted into the Army during the Korean War on January 20, 1953. Due to health reasons, he never saw duty overseas but remained in the States at Fort Benning, Georgia, as a cook. My dad could cook anything and make it taste good, so he was in the right position for him and the lucky troops. He would tell stories of making eggs for officers any way they wanted instead of what the menu called for.  He was discharged with the rank of sergeant on January 20, 1955.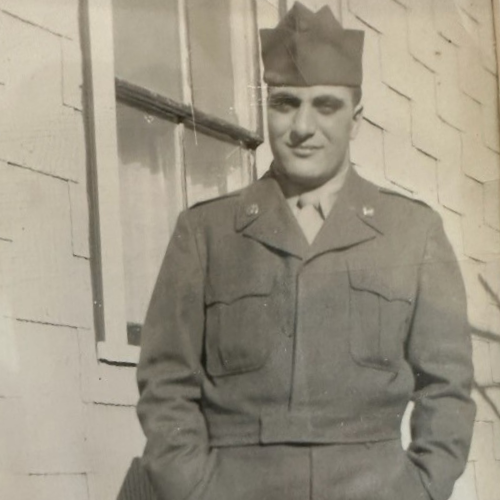 My dad, Joseph L. Maglio, home on leave in 1954. 
I am very proud of all the men in my family who  have served our country. 
Cathie Maglio is a JFYNetWorks blended learning specialist.
The story of my uncle Seymour Reissman, a doctor who served in the Army during World War II, begins with his medical school journey in the 1930s and takes us to the battle-scarred landscapes of North Africa and southern Italy.
After Sy graduated medical school, he volunteered to join the Army. Because Sy was a doctor, he entered as a captain. He was eventually promoted to major for his bravery and dedication. At first my uncle worked on Army bases in Georgia, but he was shipped overseas to serve as a doctor on the battlefield. The Army needed his skills as  a physician, and they required him  to serve for 5 years– much longer than the usual draft period.  Sy served in North Africa and then in southern Italy. 
When I was a child, I visited southern Italy with my mother. She told me that my uncle tirelessly attended to the wounded there.  Decades later, there were still bare patches on the hills–scars from the bombing. 
My uncle Sy served with valor and often risked his life to save soldiers.  One remarkable act was when he  jumped into a tank and drove it under a tree to shield it from an attacking dive bomber.  His action saved a soldier's life, and the soldier gave my uncle a Swiss Army knife to show his gratitude. Uncle Sy was fearless.  He rescued soldiers from tanks many times,  sometimes seconds before they burst into flames. He received a bronze medal for his courage. He also developed a leather harness to  hoist  wounded soldiers from the turrets of tanks.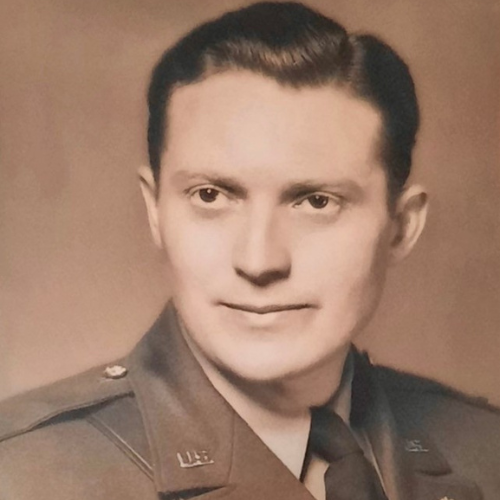 My uncle, Seymour Reissman, 1942. 
This harness improved soldiers' chances for safe removal and recovery. Sy was wounded in Sicily, an injury serious enough to send him home.
Sy's military service changed the trajectory of his career. Although originally planning to be a pediatrician, he performed numerous orthopedic operations during his time in the Army. The  experience transformed his aspirations and he  became a highly respected orthopedic surgeon.
Uncle Sy's dedication and bravery serve as a testament to the spirit of Veterans Day.  I am proud to help  honor individuals like my uncle Seymour Reissman who exemplify commitment and courage, both on and off the battlefield.
 Joan Reissman is a JFYNetWorks blended learning specialist
Part of Neighborhood Lore
I live midway between two "squares" marked by tall but modest black and white signs.  The signs  commemorate  two war heroes who  once lived here.  The squares are named for Corporal Melvin Daley and First Lieutenant Roland Moody.
Corporal Melvin L. Daley was the youngest of four brothers.  Each of his older brothers served in World War II and his father was a merchant marine. Melvin enlisted in the Army right after he graduated from high school in 1948, though he was only seventeen. He served in Japan before being shipped out to Korea. He was killed in a vehicle accident there in 1950, just months before he would have entered the U.S. Military Academy at West Point.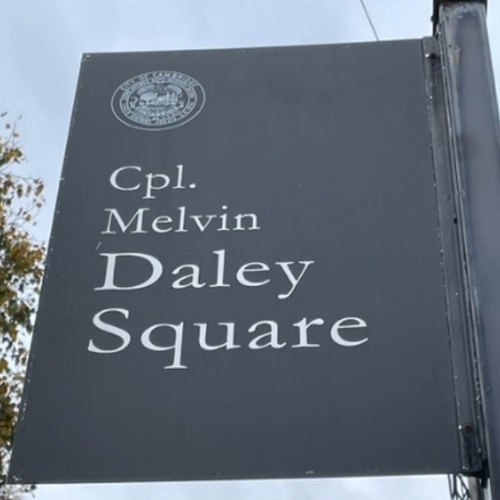 First Lieutenant  Roland W. Moody enlisted with his younger brother Paul in the U.S. Air Force in 1942, right after Paul  graduated from high school. They entered the Tuskegee Air Pilot Institute in Alabama and were awarded their wings in 1944.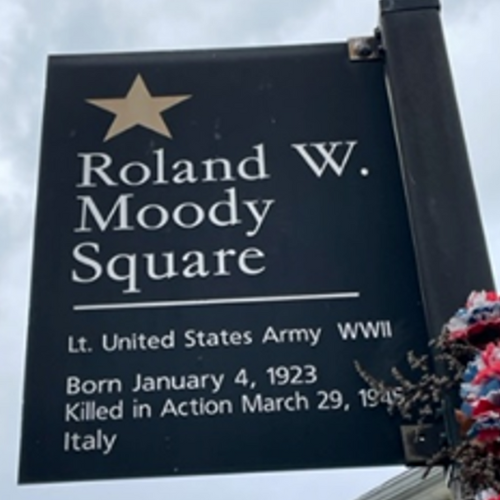 The Tuskegee Airmen were an elite group of African American fighter and bomber pilots and airmen who fought in World War II.
Before the founding of the Tuskegee Airmen in 1941, there were no African American military pilots. The Tuskegee Airmen formed the 332nd Fighter Group, one of only two African American air units that saw combat. Missions covered the Mediterranean Theater of Operations, including North Africa, Sicily, Italy and southern France.
First Lieutenant Roland Moody was stationed at Ramitelli Airfield in Campobasso, Italy, on the Adriatic Coast.  He died in 1945 in a tragic accident on base involving an exploding aircraft fuel tank. He is buried in the Sicily-Rome American Cemetery and Memorial in Nettuno, Italy. Roland was awarded a Purple Heart, an Air Medal for heroism, and a Distinguished Flying Cross for extraordinary aerial achievement.
Though I  didn't know either man, I did know members of the families they left behind. I pass one or both of these markers nearly every day. Their names and deeds are part of neighborhood lore. They are not forgotten.
Paula Paris is deputy director of JFYNetWorks. She lives in Cambridge.
All the men in my father's generation of my family were in the Army. They included his oldest brother Nate, the next brother Morrie, my dad Jack, the next brother Shey, the youngest brother Louie, and my  mother's brother Herbie. My uncle Bernie, who married my father's sister Adele in 1946, was a chemist assigned to the Manhattan Project at the University of Chicago during the war. All served in World War II except Louie, who served in Korea. All survived their military service.
Only Shey and Louie saw combat. My dad Jack was stationed in England with an Army Air Corps weather unit plotting the timing of Operation Overlord, the Normandy Invasion. Shey was captured in the Battle of the Bulge in December 1944 and imprisoned in a German POW camp. He was liberated by Russian troops in April 1945 and hiked for two days with fellow GIs 25 miles west to the American lines.  My other uncles were stationed in the U.S.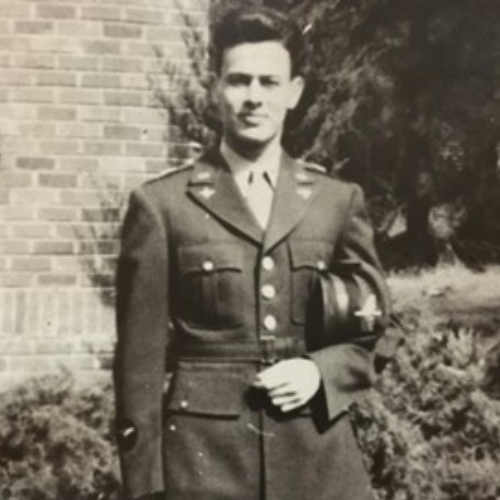 My father, Jack Kaplan, ca. 1942.
Uncle Louie served in a counterfire platoon attached to the 14th Infantry Regiment on the hilly front lines of Korea near Pork Chop Hill in 1953 and 54. His position was bombarded by constant small arms, artillery and mortar fire but he was never wounded. Louie is the only man of my father's generation who is still alive. He is 93.
Remembering them on Veterans Day and other days keeps them all alive in spirit.   
Gary Kaplan is the executive director of JFYNetWorks