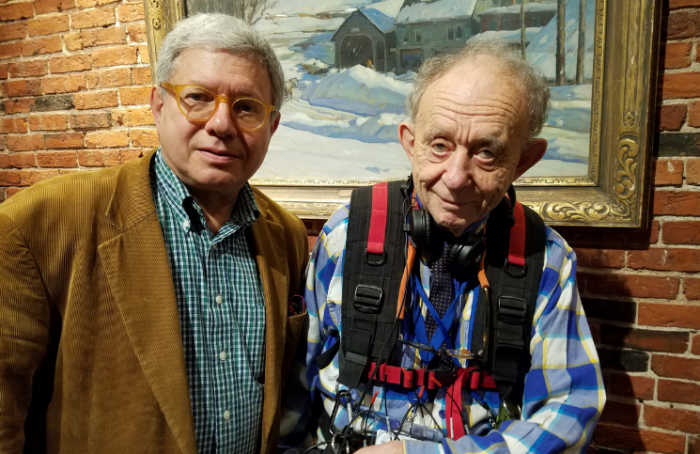 Frederick Wiseman, Chronicler of the Western World
by Gary Kaplan, Unbounded Fan of 'Fred'
I was at a conference this morning and felt the need for another cup of coffee. The conference was in a lecture room at the front of the building and the food in another room at the back. I sat for a few minutes debating whether to make a spectacle of myself by exiting the room. Caffeine withdrawal finally settled the issue and I slid as silently as possible out of the lecture room and into the corridor. I tiptoed to the rear of the building, decanted my cup of brew, and headed back toward the front. All this, from the first caffeine craving to the return, took perhaps four minutes. Just as I approached the doorway back into the lecture room, a diminutive figure emerged from another doorway and came toward me down the carpeted corridor. It was a small old man with cameras strapped all over his slight frame. Recognition was instantaneous. "Fred!" I blurted. "What are you doing here?" As if it was any business of mine, and as if he knew me from a hole in the wall.

I knew him, all right. It was Frederick Wiseman, the dean of American documentary film makers, whose 47 films have illuminated dark corner after dark corner of the American institutional landscape since the epochal 1967 Titicut Follies shamed Massachusetts government into changing the way it delivers mental health care. All his films might be characterized by the name the Commonwealth gave to its mental health reform policy: Deinstitutionalization. He has been so much a denizen of my consciousness for all these decades that I felt, when he apparated before me, as if he were an old and dear friend. "Fred!" indeed.
He graciously tolerated my fawning over him for a few minutes and condescended to submit to a fan photo.

Header picture: Gary Kaplan, Executive Director, JFYNetWorks (left), Frederick Wiseman, legendary documentarian (right)
---
LATEST DOCUMENTARY: 'MONROVIA, INDIANA'
Viewing at MFA Boston, November 14, 2018 and November 24, 2018. Details found here.
Learn more about Fred
Zipporah Films
Frederick Wiseman: The Filmmaker Who Shows Us Ourselves (NYTimes)
Frederick Wiseman receives an Honorary Award at the 2016 Governors Awards (Oscars) (video)