From Ethiopia to Architecture: My Journey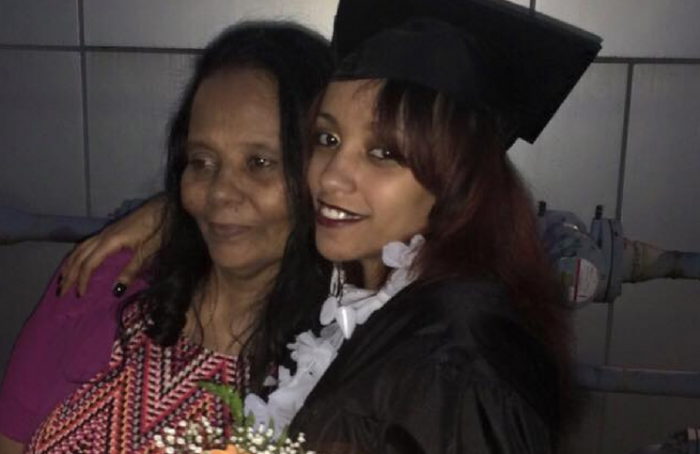 by Joan Reissman, Blended Learning Specialist
One Student's Brave Journey
As a Blended Learning Specialist with JFYNetWorks, I have met many students. It's the best part of my job– meeting people and helping them succeed. I enjoy working with all students, but some naturally stand out. Selamawit Balcha is one of those stand-outs. She was in one of my classes at Cambridge Rindge and Latin School in 2014 and I was immediately impressed by her determination and focus. I knew she would be successful. She is now working towards her architecture degree at Wentworth Institute of Technology. I asked her to share her story and she responded with the following account.

For more than half my life I lived in the East African country of Ethiopia. My mom got the chance to come to the US when I was eleven years old. My two siblings had come to the US at that time and they were able to bring my mom. Six years later my mom brought me to the US at the age of seventeen to get a better education.
While I was traveling to America, I was alone. I was a little scared to be coming to this new country by myself. I missed my connecting flight and had a layover in Washington, D.C. Since I did not speak English fluently, it took me a long time to explain my problem to the airline's customer service agent. That's why I missed my flight. I felt out of place, angry, and ashamed that I did not speak English very well. But the little English I did know helped me to communicate and finally get on the correct flight. Whew! It is hard not to know the language of the place you are visiting. I was lucky that I knew a little English, but many people only speak their native language.
When I arrived in Boston, I started my American experience by enrolling in Cambridge Rindge and Latin school. Attending high school was the first step in my journey. Before I started school, my family introduced me to an Ethiopian friend who was attending CRLS. I quickly made a lot of Ethiopian friends and that helped my transition to my new life, I knew when I attended CRLS that it would be the first step towards my goal of becoming an architect. I have dreamed of becoming an architect since I was a little girl. I have always loved to draw architectural structures and to imagine what those structures would look like and how people would react to my buildings. Graduating high school was part of the process, but I knew I would have many more steps in my journey.
I have tried very hard to take every chance to help my dream come true, so I participated in the JFYNet College Readiness program to build my skills and prepare for the college placement test. I knew this wonderful opportunity would guide me to the next level–college. I studied online in the JFYNet program and felt my skills improving and raised my scores. The program really helped me build my foundation skills. It prepared me for enrollment at Bunker Hill Community College.
I continued my journey toward architecture by taking intermediate English classes at Bunker Hill. Since English is not my first language, taking those classes helped me develop the communication skills that I have today. I spent two years at BHCC taking general courses and continuing to build my skills. I worked very hard and made the Dean's List with a GPA of 3.8. After two years, I transferred to Wentworth Institute of Technology to finally pursue architecture.
In my freshman year, I faced a lot of challenges. I didn't think studying architecture would be so hard. I didn't have time to sleep or eat. I spent all my time researching, analyzing, making models and drawing.
Even though I studied constantly, my GPA wasn't satisfactory so I started to analyze my weaknesses. I was weak in English grammar so I practiced by writing essays and taking feedback from my tutor and adviser. This helped me develop my writing and speaking. My grades improved and I was even able to increase my scholarship by earning higher grades. I also have a mentor who is an architect. Having a professional mentor is very helpful. I am now a sophomore student at Wentworth working extremely hard with scholarships and mentor support and well on my way to becoming an architect.
I have traveled a long road in my journey. As a child in Ethiopia, I never imagined that my journey would be so long, but I have never given up on my goals. I will graduate with an architecture degree after I finish the eight-semester course at Wentworth. Then I will be working as an architect and my childhood dream will become a reality. I am so grateful for all the help I have received ever since I arrived in America barely able to communicate enough to catch a plane. I plan to repay that help by designing beautiful buildings for people to live and work in and look at. And I hope I can help other immigrants who are struggling as I did with a new language and a new country and an old dream, the dream my mother dreamt for me.